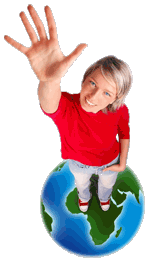 Grigori Yefimovich Rasputin, known as "The Mad Monk," was born in an impoverished Siberian village on 10 January 1869. Little is known of his life before the age of 18, when he set off to study at the Verkhoturye Monastery and to follow on the steps of a local holy man named Makariy. Empowered by Makariy, he eventually left his wife and four children to become a pilgrim. After 12 years of pilgrimage, Rasputin arrived in St. Petersburg, Russia, and quickly earned a reputation as a holy man with healing powers.
Rasputin's first contact with the imperial family occurred in 1905. One-year old Tsarevich Alexei Nikolaevich Romanov, who suffered from hemophilia, had an accident while vacationing with his family and was suffering from severe internal bleeding that doctors seemed unable to control. Following the advice of a friend, the Tsarina contacted Rasputin, who is said to have helped the boy through remote prayer. After this, Rasputin became a trusted confidant of the royal family, who referred to him as "our friend, the holy man." He stayed close to Alexei and eventually gained a post as a court official.
Skeptics believe that one of the reasons Rasputin was able to help the Tsarevich is that the monk recommended all medical treatments be stopped. One of the most common medicines of the time was aspirin, an anticoagulant that probably contributed to the boy's pain and joint swelling. If the stories are true, the recommendation of stopping treatment would have helped the Tsarevich significantly.
As his power became stronger, Rasputin began counseling the Tsar on official business. It was because of his advice that Russian troops withdraw from World War I and that Tsar Nicholas II made the mistake of moving to the Eastern Front to command his own troops. Rasputin was also infamous for his religious practices. He was a follower of the Khlysty sect, which advocated extremes such as mass orgies and flagellation.
The presence of Rasputin in the imperial home caused a lot of controversy among the St. Petersburg elite. Both the Russian Orthodox Church and many nobles were increasingly unhappy with the man's power and influence. It's believed that Prince Felix Yusupov and Grand Duke Dmitri Pavlovich conspired to have him killed on 16 December 1916.
There are several theories regarding Rasputin's death. Some say he was poisoned with cyanide but survived, just to be shot by Yusupov in the back. New evidence suggests that things may be a little more complex than originally thought. It is now believed that he was shot to death by a British Secret Intelligence Service (SIS) officer as a favor to Yusupov.


Woman waving