Someone who is said to be "on the dole" is a person who is unemployed and therefore entitled to certain benefits. This term originates in the United Kingdom, where it is often used specifically to refer to the Jobseeker's Allowance, a form of welfare which is offered to unemployed individuals who are seeking jobs. It can also refer more generally to charity and government-funded welfare programs; most nations have some form of the dole, out of a desire to ensure that the populace stays reasonably healthy and happy.
This term originated in the First World War, with the first written instance of "the dole" appearing in 1919. The term refers to the idea of doling out charity in the form of food, blankets, supplies, and of course funds. Funding for the dole is provided through a variety of sources, depending on the source of the charity. Charitable organizations rely on funding from the public and various grants, for example, while the government generally uses taxes and other forms of government income to fund its welfare programs, doling out funds on the basis of the cost of living and the situation.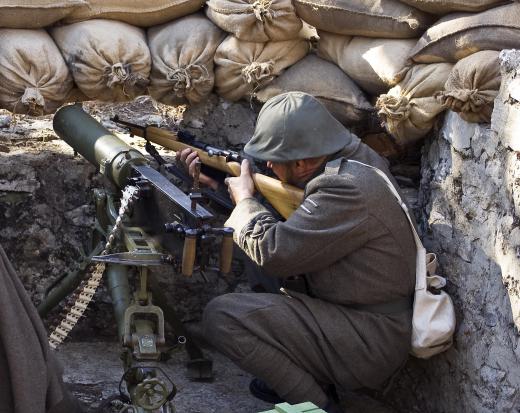 Attitudes about the dole vary. In some regions, people who live on government funding are viewed negatively, even if they are only forced to resort to the dole for a short period of time. In other instances, people recognize that sometimes circumstances are beyond individual control, forcing people to rely on government assistance in some situations. For example, people can lose their jobs quite suddenly due to company bankruptcy or an abrupt reorganization of a company, and it may take them some time to find new employment, especially in a depressed economy.
In order to qualify for the dole, people must generally demonstrate that they are genuinely unemployed, and in many areas they may be required to show active effort in looking for a new job. It is common for government benefits to be denied to people who have been fired for negligence or poor job performance, with benefits being reserved for people who have been unemployed through no fault of their own.
Once someone is on the dole, it can be easier to become eligible for other benefits, such as food stamps, childcare assistance, and so forth. In regions of the world which lack universal healthcare, government-funded healthcare programs for the needy may be open to people on the dole, with social workers advising people about the benefits they can and should apply for.
AS FEATURED ON:
AS FEATURED ON:

By: lebanmax

The term "dole" was coined during World War I.