The term "open forum" can refer to several things, depending on who is speaking and what the context is. All of these meanings, however, imply the open exchange of ideas and information, usually to better the common good. The word "forum" comes directly from the Latin. In Roman times, the forum was an open marketplace where people could make purchases, have discussions with other citizens, and try to reach agreement on matters of public interest. Some of these meanings have carried through to the modern day.
In a loose sense, this term can be used to describe any space in which people may exchange information and ideas. In the United States, for example, most government owned public property is an open forum. In that forum, citizens can protest, hold meetings, and exercise other first amendment rights. Some typical examples include sidewalks, parks, streets, publicly held buildings, and spaces set aside specifically for the purpose.
The term is also used to refer to a specific meeting or event. In this instance, an open forum is intended to be a venue in which people can gather to find out about a specific issue, reach a resolution on a controversial subject, or interact with members of their communities. Often, officials and representatives are present to answer questions from the public, facilitate the discussion, and provide information which people may find valuable or useful.
The idea of the open forum is very important to many democratic nations, since it allows citizens an opportunity to speak out about things which concern them. It also allows residents to have influence in their communities, by giving them a vote in major community decisions. Depending on the nation, a forum may offer citizens an opportunity to vote on proposed development, allocate community funds, or participate in their communities in other ways.
Although this type of forum is intended to be a space in which free speech is exercised, there are restraints. People are expected to behave politely, although they are welcome to disagree with each other. Violent words or actions are not condoned, and a forum must also be held at a reasonable hour. If citizens intend to exercise their public rights by marching or holding a demonstration, they must apply for permits, just as a group of individuals holding a forum in a municipal building must do. As a general rule, the open forum must be open to everyone, regardless as to race, gender, creed, or economic status.
Are There Open Forums in My Community?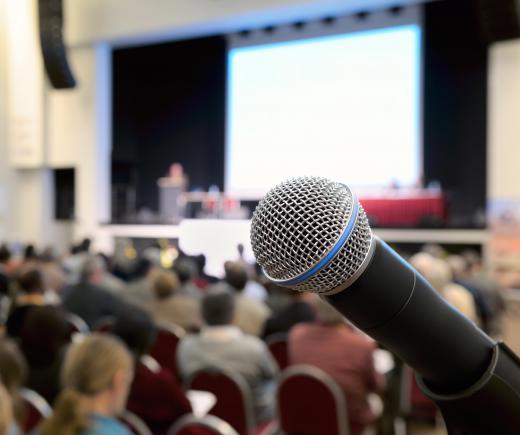 Open forums may be a place, meeting, or event that involves the free exchange of information and ideas, typically — though not always — in a government context. Open forums are public and unrestricted, meaning anyone can participate in them as long as they follow general rules of tact and civility. In some instances, such as with public demonstrations or marches, permits are first required.
The First Amendment protects the right to open forums. Open forums are critical for any democracy to function, as they allow for free discussion so citizens can express any concerns they may have about their community. Open forums are about representation, as citizens know their concerns are being heard by their community leaders and government officials.
Open forums generally revolve around sharing information and ideas that focus on a certain community issue. To moderate and guide the discussion, there are often community leaders or government officials present. These leaders of the forum are also there to answer questions from the public.
Government-owned property is a common place for an open forum. Parks, sidewalks, and public buildings are frequent areas used for this purpose. These places are often referred to as traditional public forums.
More broadly, a forum is a place for discussion, and there is more than one type of forum.
What Are The Different Types of Forums?
Traditional public forums take place on community property. If there is an open forum in a designated area owned by the government, the strongest First Amendment rights apply. Discrimination against speakers for their views is not allowed in this type of forum. There is a specific term for this called viewpoint discrimination, and the First Amendment prohibits it. However, public officials may place certain restrictions on manner, time, and place, so long as they are compellingly necessary.
Designated public forums take place in areas that are not traditional for open discussions, such as state college campuses or municipal theaters. These tend to be open at certain times for public discourse and may no longer be available for use once the discussion is completed. When an area is designated as a public forum, it has the same First Amendment protections as traditional public forums.
Limited forums have certain restrictions on what type of speech can be used. For example, some areas, such as public schools, may only be available to those participating in school-related activities. However, protections against viewpoint discrimination still apply.
Nonpublic forums include those that are none of these subtypes. Viewpoint discrimination protections apply, but restrictions may pertain to certain kinds of speech. Such areas might include polling places or airport terminals.
Does the First Amendment Protect Online Forums?
Because online forums are too commonly used to spread misinformation and influence public opinion in dubious ways, the discussion over whether the First Amendment should apply to online speech is a hot topic. This became an especially prominent theme when Facebook came under scrutiny for allowing the spread of false or misleading news stories and advertisements, especially during the 2016 presidential election.
As it stands now, the First Amendment generally does not apply to online forums because the discussions themselves are a part of a private service. Twitter, for example, is allowed to take action if it finds that a user has violated its Terms of Service, potentially barring the user from ever posting again on the platform.
Unfortunately, misinformation, disinformation, and sneaky forms of misleading the public are still persistent problems online, as there are ways to accomplish these things without breaking the rules. Some users who use online forums for these purposes may not technically be violating the Terms of Service and are therefore allowed to post misleading information.
What Are Online Discussion Forums?
Online discussion forums, not to be confused with social media, appeared in the mid-1990s and are places for people to discuss certain topics, including sports, business, health, finance, or current events. The original concept for online discussion forums came from Usenet newsgroups in 1979. The first online discussion forums were not on the Web but instead were held between UNIX machines that used Usenet, operating as bulletin board systems.
When operating on the Web, online discussion forums use asynchronous communication, meaning users do not need to all be logged on at the same time. This means that, if one user posts a message, another may respond to it even after the original user is not present. A third user may then respond as well, and the original user may return to their terminal to continue the discussion. This type of discussion differs from online chatrooms, which use synchronous communication with all users logged on at the same time and speaking in real-time.
AS FEATURED ON:
AS FEATURED ON:

By: Beboy

In Roman times, the forum referred to a marketplace where people engaged in discussions regarding matters of public interest.

By: Halfpoint

During an open forum meeting, any person may address the gathering.

By: wong yu liang

Open forums are considered an important aspect of a democracy, with public properties in the United States often open to First Amendment exercises such as protests.

By: Vladimir Kolobov

Open forums provide people an opportunity to discuss issues.

By: kasto

Local government might host an open forum so officials can address public concerns.